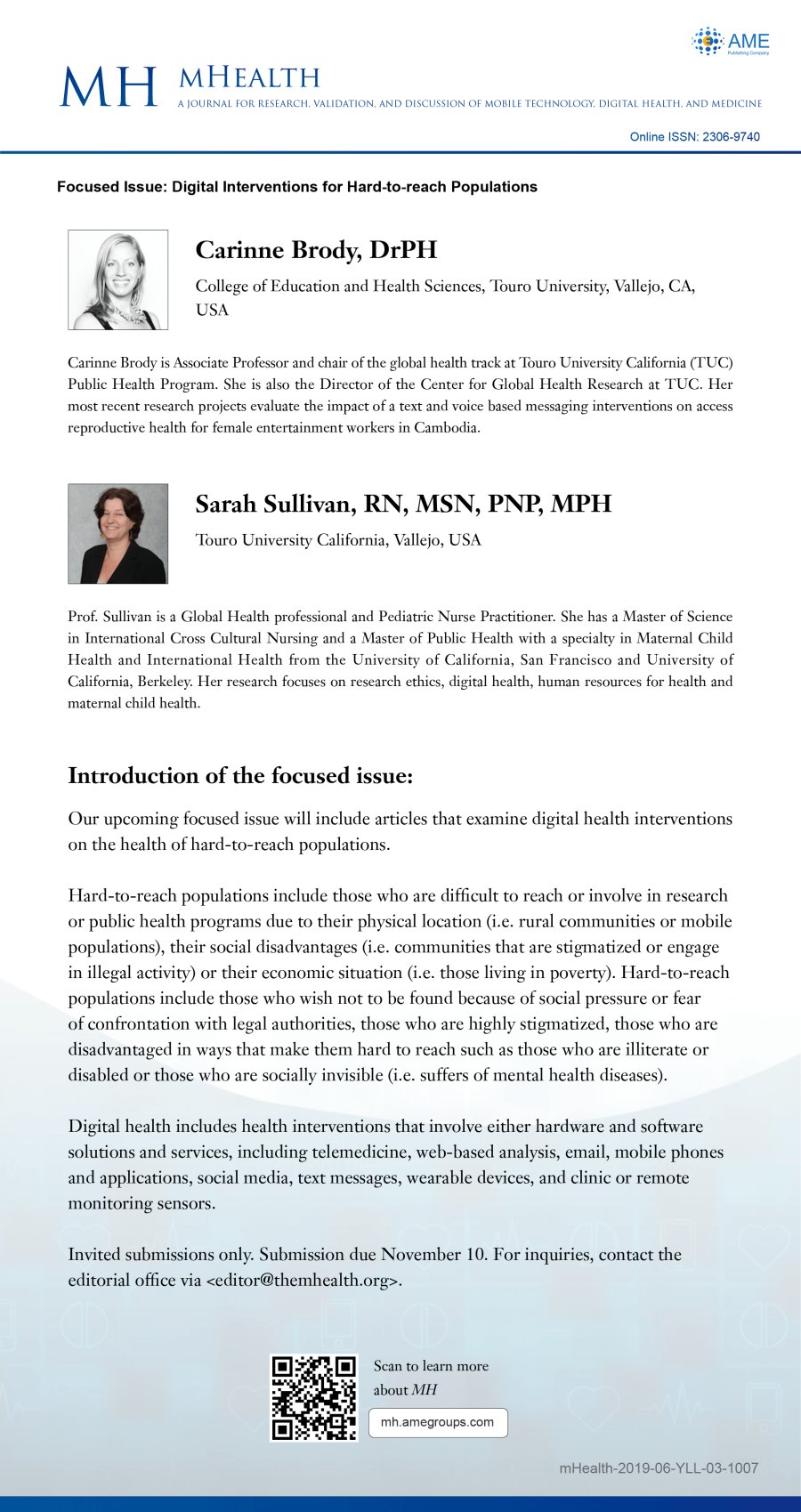 This focused issue on "Digital Interventions for Hard-to-reach Populations" is edited by Dr. Carinne Brody, from College of Education and Health Sciences, Touro University, Vallejo, CA, USA; and Dr. Sarah Sullivan, from Touro University California, Vallejo, USA.
Dr. Carinne Brody is Associate Professor and chair of the global health track at Touro University California (TUC) Public Health Program. She is also the Director of the Center for Global Health Research at TUC. Her most recent research projects evaluate the impact of a text and voice based messaging interventions on access reproductive health for female entertainment workers in Cambodia.
Dr. Sarah Sullivan is a Global Health professional and Pediatric Nurse Practitioner. She has a Master of Science in International Cross Cultural Nursing and a Master of Public Health with a specialty in Maternal Child Health and International Health from the University of California, San Francisco and University of California, Berkeley. Her research focuses on research ethics, digital health, human resources for health and maternal child health.
Introduction of the focused issue
Our upcoming focused issue will include articles that examine digital health interventions on the health of hard-to-reach populations.
Hard-to-reach populations include those who are difficult to reach or involve in research or public health programs due to their physical location (i.e. rural communities or mobile populations), their social disadvantages (i.e. communities that are stigmatized or engage in illegal activity) or their economic situation (i.e. those living in poverty). Hard-to-reach populations include those who wish not to be found because of social pressure or fear of confrontation with legal authorities, those who are highly stigmatized, those who are disadvantaged in ways that make them hard to reach such as those who are illiterate or disabled or those who are socially invisible (i.e. suffers of mental health diseases).
Digital health includes health interventions that involve either hardware and software solutions and services, including telemedicine, web-based analysis, email, mobile phones and applications, social media, text messages, wearable devices, and clinic or remote monitoring sensors.
Invited submissions only. Submission due November 10. For inquiries, contact the editorial office via <editor@themhealth.org>.