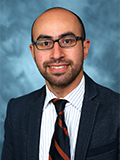 Sherif M. Badawy, MD
Division of Hematology, Oncology and Stem Cell Transplant, Ann & Robert H. Lurie Children's Hospital of Chicago, Chicago, IL, USA
Dr. Badawy is a pediatric hematologist and his primary area of interest clinically is sickle cell disease. Dr. Badawy's major research focus relates to health services and outcomes research, in particular the development and the implementation of technology-based behavioral interventions to monitor and improve medication adherence, quality of life, and other patient-reported outcomes in adolescents and young adults across chronic health conditions.
Dr. Badawy has published several articles in high impact journals in his research field. He also serves as a reviewer for more than 30 peer-reviewed journals.
Dr. Badawy's work has been funded by the Agency for Healthcare Research and Quality (AHRQ), Patient-Centered Outcomes Research Institute (PCORI), Pfizer Competitive Grants Program, Ann & Robert H. Lurie Children's Hospital of Chicago and Northwestern University Clinical and Translational Sciences Institute (NUCATS).
Terms of Appointment: May, 2019 - April, 2021