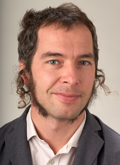 Erik Andersson, PhD
Department of Clinical Neuroscience, Division of Psychology, Karolinska institute, Stockholm, Sweden
Dr. Andersson did his PhD on novel scalable treatments for patients with obsessive-compulsive disorder (OCD) which included three large-scale randomized trials testing internet-delivered CBT both as stand-alone treatment or in conjunction with the medication D-Cycloserine and a booster program.
Dr. Andersson´s current main research aims to improve psychological treatments by developing theory-driven and streamlined interventions targeting specific psychopathological processes. He has over 50 research publications where the majority is internet-based interventions for obsessions, compulsions, tics, excessive worry, trauma memories, health anxiety and pain-elicited avoidance behaviors.
Dr. Andersson works clinically in regular psychiatry and is a lecturer at the psychology program at Karolinska Institutet, Stockholm Sweden. Main funders of his research are the Swedish research council, Stockholm county council and Karolinska Institutet.

Terms of Appointment: December, 2018 - November, 2020