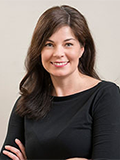 Sandra McCoy, PhD, MPH
School of Public Health, University of California, 2121 Berkeley Way, Room 5302, Berkeley, CA, USA
Dr. Sandra McCoy is an Associate Professor in the Division of Epidemiology at the University of California, Berkeley (UC Berkeley) School of Public Health. She studies how social, economic, and cultural forces influence disease transmission and health outcomes. During the past several years, Dr. McCoy has explored these relationships through the lens of HIV infection and reproductive health. Using a diverse array of approaches, her goal is to identify innovative, cost-effective, and scalable interventions to overcome global health challenges.
Dr. McCoy is especially interested in designing and testing new interventions, often using technology, that can positively change health behavior, such as increasing adherence to treatment, adoption of contraception, or encouraging people to engage in health screenings. Most recently, Dr. McCoy led a study in California to develop and pilot an online mHealth intervention ("Stick To It") for young gay and bisexual men based on principles of gamification, the use of game elements in non-game settings. The intervention leveraged proven motivational tools from behavioral economics and psychology (incentives, rewards, competition) in a fun, game-like setting. In addition, Dr. McCoy has led a portfolio of projects in Tanzania to bolster adherence to antiretroviral therapy among people living with HIV infection. For example, her team is evaluating the effectiveness of short term cash transfers provided at treatment initiation that are deployed through a comprehensive digital platform (developed by Rasello). The solution uses biometric identification to track patients over time and automatically delivers cash transfers to patients using their desired mobile money provider. In this way, Dr. McCoy's work combines innovative tools from behavioral science with technology to enhance engagement in beneficial health services and behaviors. 
Dr. McCoy has an MPH from the University of Michigan and a PhD in Epidemiology from the University of North Carolina at Chapel Hill. At UC Berkeley, Dr. McCoy teaches introduction to epidemiologic methods and co-teaches a course on the epidemiology and control of infectious diseases. In addition, she has been an instructor at numerous impact evaluation workshops led by PEPFAR, the World Bank, and UNAIDS in the U.S., Italy, Zimbabwe, South Africa, and Tanzania. She has experience with experimental and quasi-experimental impact evaluations, qualitative research, human-centered design, and implementation science.
Terms of Appointment: May, 2018 - April, 2020