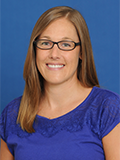 Kristin Heron, PhD
Department of Psychology, Old Dominion University & Virginia Consortium Program in Clinical Psychology, Norfolk, VA, USA
Dr. Kristin Heron is an Assistant Professor of Clinical Psychology at Old Dominion University and in the Virginia Consortium Program in Clinical Psychology. She received her Ph.D. in Clinical Psychology from Syracuse University and previously was the Associate Director of the Dynamic Real-time Ecological Ambulatory Methodologies (DREAM) program at the Pennsylvania State University Survey Research Center.
Dr. Heron's expertise is in the design and implementation of research studies that use ecological momentary assessment (EMA) or related approaches to collect real-time data in people's everyday lives. She is also involved in the development of behavioral health treatments that utilize mobile technology to deliver interventions to people in their natural settings. In her own work and in collaboration with others she has conducted dozens of EMA and intervention studies on a range of topics, with a particular emphasis on clinical health applications. Her research primarily focuses on disordered eating behavior and related processes (body image, physical activity) in young women. She is especially interested in health behaviors in minority populations, including sexual and racial minorities, with an emphasis on understanding health disparities between minority and majority group members. The ultimate goal of this work is to design novel, culturally tailored interventions for minority groups to address physical and mental health disparities.
Her work has been funded by the National Institute of Minority Health and Health Disparities (NIMHD), the National Institute of Mental Health (NIMH), and the Eating Recovery Foundation.
Terms of Appointment: February, 2019 - January, 2021