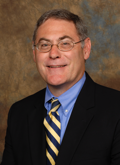 Charles Doarn, MBA, FATA
Family and Community Medicine, University of Cincinnati, Cincinnati, OH, USA
Charles Doarn is a Research Professor in Family and Community Medicine at the University of Cincinnati (UC). He has academic appointments in Environmental Health and Political Science at UC, Aerospace Medicine at Wright State University, and Emergency Medicine at George Washington University. He is currently on loan as a Special Assistant to the NASA Chief Health and Medical Officer at NASA Headquarters, Washington, DC. He serves as the co-chair of FedTel for the U.S. Government. He served as the 'Governance Team lead' on a NATO project, entitled a 'Multinational Telemedicine System for Disasters'. Professor Doarn is a Fulbright Specialist with the U.S. Department of State. He has also held several senior management positions, including Deputy Director, Center for Surgical Innovation; Executive Director, Telehealth Video Resources Center in Ohio; Executive Director and co-principal investigator for NASA's Research Partnership Center for Medical Informatics and Technology Applications, located at Yale University (1997-1999) and Virginia Commonwealth University in Richmond (1999-2003). Throughout the 1990's, Professor Doarn served as the Program Executive for Aerospace Medicine and Telemedicine at NASA Headquarters. He is the principle author of NASA's Integrated Strategic Plan for Telemedicine and served as the lead for NASA's Telemedicine activities. Professor Doarn also serves as the Executive Secretary of the Multilateral Medical Policy Board for the International Space Station. He serves as the co-director of the Global Health Concentration within UC's accredited MPH Program.
Professor Doarn received his undergraduate degree in Biological Sciences (Microbiology) from The Ohio State University in 1980 and an MBA from the University of Dayton in 1988. Additional training has included Advanced Program Management at NASA's Wallops Flight Facility, VA and a National Library of Medicine (NLM) Medical Informatics Fellows Course at Woods Hole, MA.
Professor Doarn served on the Board of Directors for the American Telemedicine Association (ATA) and held several key positions including Secretary, Treasurer, and Chair of the International Special Interest Group for the ATA. Professor Doarn serves as one of two Editors-in-Chief of the Telemedicine and e-Health Journal. Professor Doarn is a recognized leader in telemedicine as a scholar and teacher, having published 5 books, over 350 manuscripts, editorials, federal reports and 35+ book chapters on this subject. Professor Doarn is an editor of the 4th edition of Space Physiology and Medicine: Evidence to Practice (ISBN 978-1-4939-6650-9 / e-book - ISBN 978-1-4939-6652-3) and is editor of A Multinational Telemedicine System for Disaster Response: Opportunities and Challenges. NATO Publication (ISBN 978-1-61499-727-6 / Online – ISBN 978-1-61499-728-3).
Professor Doarn is a fellow of the ATA and the Aerospace Medical Association, a member of the International Academy of Astronautics (IAA), an Honorary NASA Flight Surgeon, and recipient of the Astronaut's award, the Silver Snoopy for his work in Telemedicine for NASA worldwide. In May 2016, Professor Doarn was recognized by the ATA with the 2016 Individual Leadership Award for his efforts national and international in telemedicine. He and his co-authors recently were the IAA's 2018 Luigi Napolitano Book Award in the Life Sciences.
Terms of Appointment: February, 2019 - January, 2021