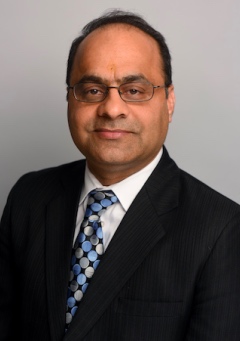 Ashish Joshi, PhD, MBBS, MPH
CUNY Institute for Implementation Science in Population Health, City University of New York Graduate School of Public Health and Health Policy, New York, USA
Dr. Joshi is an academician, researcher, mentor, innovator and an entrepreneur. He is a trained physician, followed by his Public Health training from Boston University and PhD in Health Informatics (with a focus on Population Health Informatics) from School of Biomedical Informatics, University of Texas Houston. Dr. Joshi blends his clinical medicine training with biomedical, public health, and informatics research.
Dr. Joshi research has a special emphasis on implementing population-based surveillance, mobile health, public health dashboards, behavioral and nutrition informatics, multifaceted health technology interventions, Sustainable Development Goals and health technology assessments.
Dr. Joshi has conceptualized the SMAART (Sustainable Multisector Accessible Affordable Reimbursable Tailored) population health informatics framework aims to design and develop evidence-based, culturally relevant, and cost-effective innovative technology enabled interventions to improve population health outcomes in various global settings. SMAART informatics framework is designed using the principles of Data, Information and Knowledge (DIK), Human Centered approach, Information processing theory and humanistic, behavioral and learning theories. The framework integrates social determinants of health to facilitate informed decision and develop RAPID (Research driven Action oriented Policy Interventions driven by Data) solutions to solve population health challenges of the 21st century.
His research projects in the US, Nigeria, India, Brazil, Haiti and Egypt has been actively funded by the AHRQ, NIH, US Department of Veteran Affairs, US Fulbright, Bill and Melinda Gates Foundation, Ministry of Health, Brazil, Indian Council of Medical Research, Government of India, New York State Department of Health and New York City Department of Health and Mental Hygiene. Several private foundations and industries have also funded his research on population health informatics interventions.
Dr. Joshi has published more than 100 publications in peer-reviewed literature and invited to present his work both nationally and internationally. He is a primary author of the recently published textbook by Jones Bartlett on "Population Health Informatics: Driving Evidence Based solutions into Practice". He has given numerous talks at National and International conferences including UN Women.
He is presently a Senior Associate Dean of Academic and Student Affairs and a Professor of City University of New York Graduate School of Public Health and Health Policy.
Terms of Appointment: December 2019 - November 2021