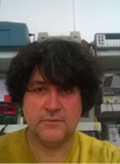 Daniele Giansanti, PhD
Technology and Health Department, National Institute of Health, Rome, Italy
Dr. Giansanti received his MD in Electronic Engineering, PHD in Telecommunications and Microelectronics Engineering, Academic Specialization in Cognitive Psychology and Neural Networks, Academic Specialization in Medical Physics.
Dr. Giansanti was in charge of Design of VLSI Asics for DSP in the Civil Field (1991-1997) during the MD and PHD. And he served as CAE-CAD-CAM system manager and Design Engineer in the project of electronic systems (Boards and VLSI) for the Warfare at Elettronica spa (1992-2000) one of the leaders in this military field.
More importantly, he also conducts various research at ISS (the Italian NIH) (2000-2019) in the following fields: 1) Biomedical Engineering and Medical Physics with the design and construction of wearable and portable devices (3 national patents); 2) Telemedicine and e-Health: technology assessment and integration of new systems in the field of the tele-rehabilitation, domiciliary monitoring, digital pathology, digital radiology; 3) Mhealth: recent interest in the field of the integration of smartphones and tablet technology in health care with particular care to the opportunities and the relevant problems of risks, abuse and regulation.
He is the Professor at Sapienza and Catholic University in Rome in several courses and tutor of several thesis, the Board editor of Telemedicine & E Health J & The Mhealth J and Reviewer in journals focused in Biomedical Engineering and Telemedicine.
Terms of Appointment: May, 2019 - April, 2021