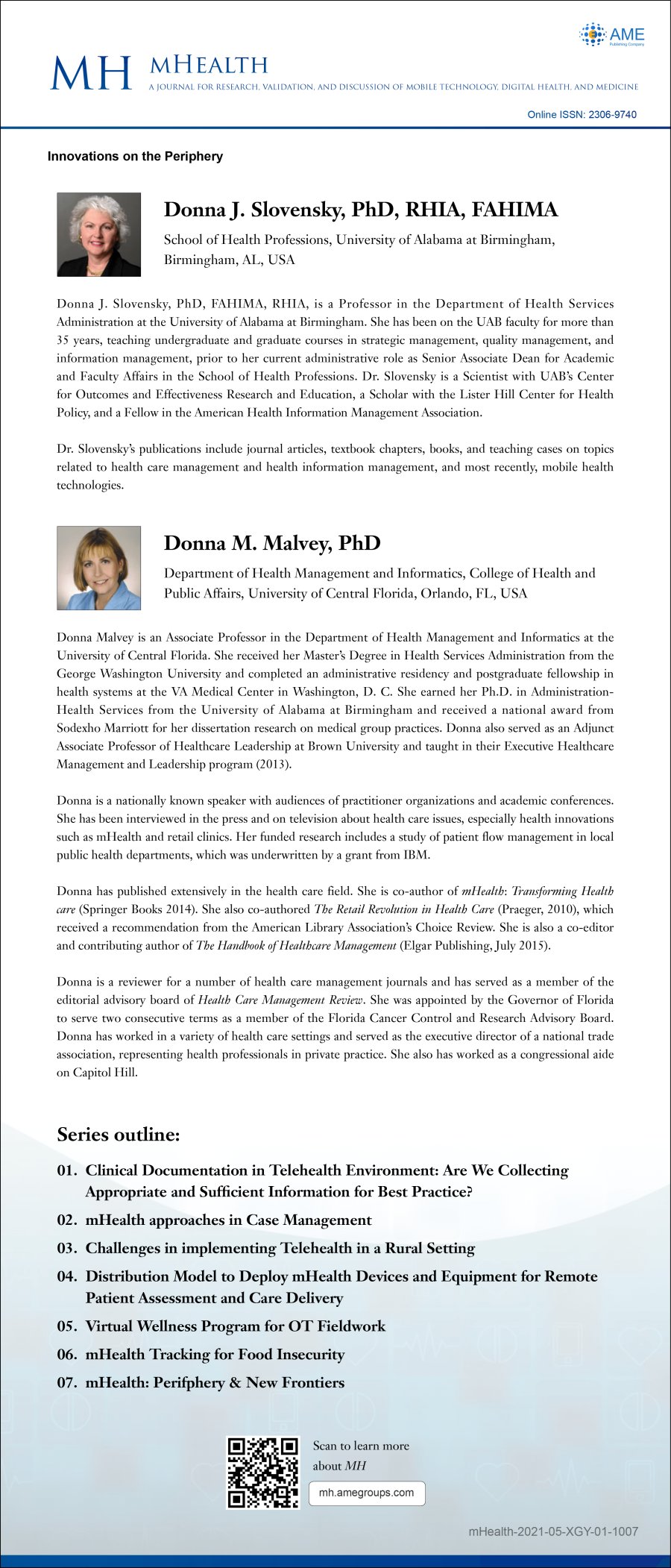 The Series on "mHealth: Innovations on the Periphery" is edited by Donna J. Slovensky from School of Health Professions, University of Alabama at Birmingham, Birmingham, AL, USA and Donna M. Malvey from Department of Health Management and Informatics, College of Health and Public Affairs, University of Central Florida, Orlando, FL, USA
Donna J. Slovensky, PhD, RHIA, FAHIMA
School of Health Professions, University of Alabama at Birmingham, Birmingham, AL, USA
Donna J. Slovensky, PhD, FAHIMA, RHIA, is a Professor in the Department of Health Services Administration at the University of Alabama at Birmingham. She has been on the UAB faculty for more than 35 years, teaching undergraduate and graduate courses in strategic management, quality management, and information management, prior to her current administrative role as Senior Associate Dean for Academic and Faculty Affairs in the School of Health Professions. Dr. Slovensky is a Scientist with UAB's Center for Outcomes and Effectiveness Research and Education, a Scholar with the Lister Hill Center for Health Policy, and a Fellow in the American Health Information Management Association.
Dr. Slovensky's publications include journal articles, textbook chapters, books, and teaching cases on topics related to health care management and health information management, and most recently, mobile health technologies.
Donna M. Malvey, PhD
Department of Health Management and Informatics, College of Health and Public Affairs, University of Central Florida, Orlando, FL, USA
Donna Malvey is an Associate Professor in the Department of Health Management and Informatics at the University of Central Florida. She received her Master's Degree in Health Services Administration from the George Washington University and completed an administrative residency and postgraduate fellowship in health systems at the VA Medical Center in Washington, D. C. She earned her Ph.D. in Administration-Health Services from the University of Alabama at Birmingham and received a national award from Sodexho Marriott for her dissertation research on medical group practices. Donna also served as an Adjunct Associate Professor of Healthcare Leadership at Brown University and taught in their Executive Healthcare Management and Leadership program (2013).Donna is a nationally known speaker with audiences of practitioner organizations and academic conferences. She has been interviewed in the press and on television about health care issues, especially health innovations such as mHealth and retail clinics. Her funded research includes a study of patient flow management in local public health departments, which was underwritten by a grant from IBM.
Donna has published extensively in the health care field. She is co-author of mHealth: Transforming Health care (Springer Books 2014). She also co-authored The Retail Revolution in Health Care (Praeger, 2010), which received a recommendation from the American Library Association's Choice Review. She is also a co-editor and contributing author of The Handbook of Healthcare Management (Elgar Publishing, July 2015).
Donna is a reviewer for a number of health care management journals and has served as a member of the editorial advisory board of Health Care Management Review. She was appointed by the Governor of Florida to serve two consecutive terms as a member of the Florida Cancer Control and Research Advisory Board. Donna has worked in a variety of health care settings and served as the executive director of a national trade association, representing health professionals in private practice. She also has worked as a congressional aide on Capitol Hill.
The main purpose of this series:
In our previous work in the mHealth domain, we acknowledged that the unholy trinity of policy, regulation, and reimbursement collectively constrained the optimal deployment and scaling of mHealth innovations. We continue to believe in the transformative power of mHealth to improve access to health resources and services for underserved and vulnerable populations. And, we are confident that in the post-pandemic environment many of the creative solutions to pandemic-induced barriers to healthcare delivery will continue to be developed and improved.
Thus, an unexpected benefit of mandated widespread, and long-term, quarantine may prove to be a robust assessment and determination of components of healthcare that can be delivered effectively with mHealth devices and approaches. In this proposed series of papers, we highlight several pilot projects, some of which emerged during the COVID quarantine period as a way to continue providing needed services to home-bound individuals. We're designating these innovations "on the periphery" of mHealth as they contribute more to improving infrastructure and assessment of mHealth services than to service delivery per se.
Series outline:
Clinical Documentation in Telehealth Environment: Are We Collecting Appropriate and Sufficient Information for Best Practice?
mHealth approaches in Case Management
Challenges in implementing Telehealth in a Rural Setting
Distribution Model to Deploy mHealth Devices and Equipment for Remote Patient Assessment and Care Delivery
Virtual Wellness Program for OT Fieldwork
mHealth Tracking for Food Insecurity
mHealth: Perifphery & New Frontiers
Disclosure:
The series "mHealth: Innovations on the Periphery" was commissioned by the editorial office, mHealth without any sponsorship or funding. Donna J. Slovensky and Donna M. Malvey are serving as the unpaid Guest Editors for the series.